Marrakesh might not be thought of by most people as a green city, however it is literally an oasis in a very arid part of the world. With ancient irrigation systems bringing water down from the Atlas mountains to the city, gardens and street trees have historically been aplenty across Marrakesh.
Green Streets and Riads
The streets of Marrakesh are full of greenery and interest if you look in the right places. Citrus, Olive and Palm trees are the common street trees of choice and you can even find cactus as under planting in the tree beds.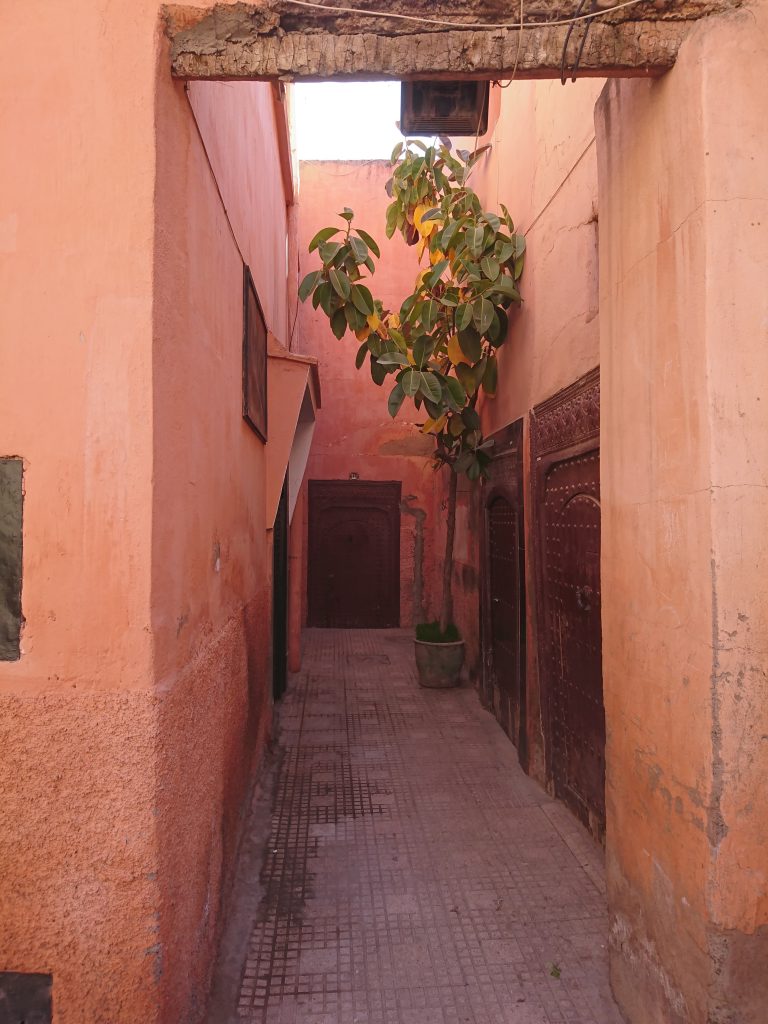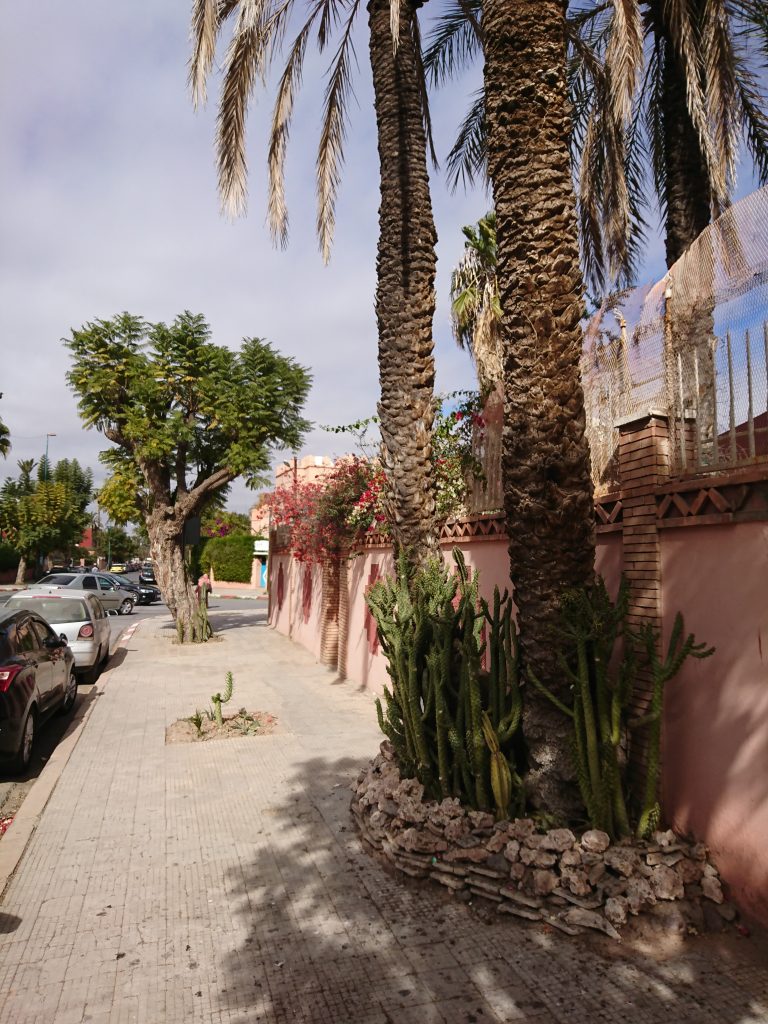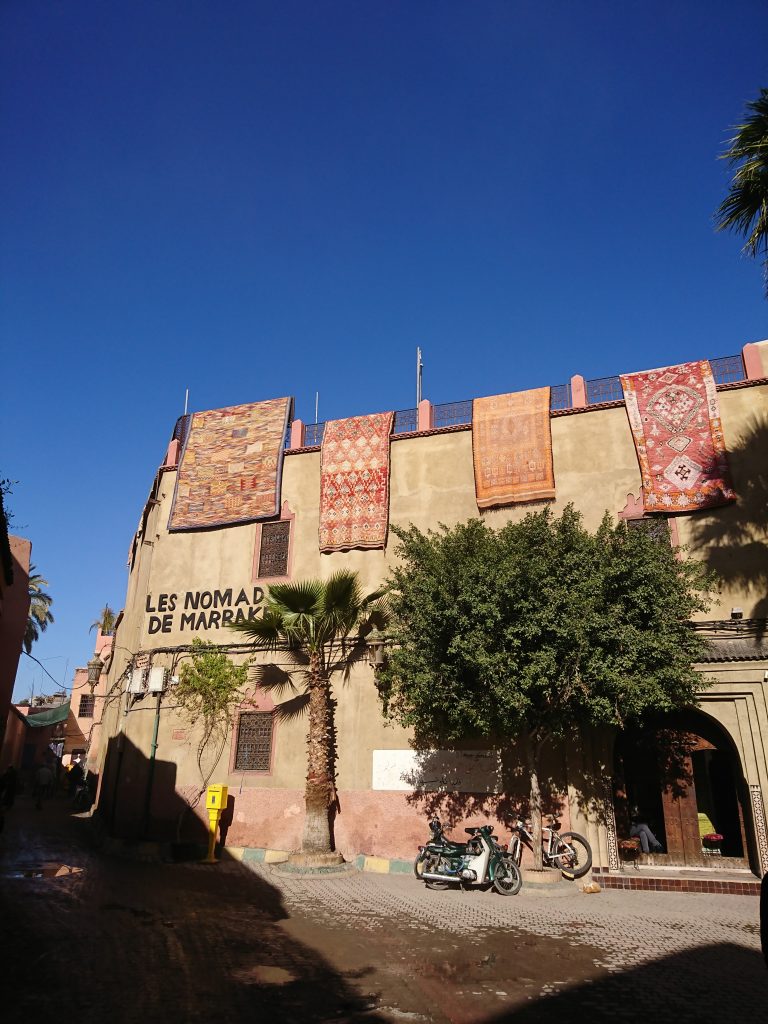 To see the majority of the cities' street trees you'll have to venture outside of the Medina's narrow streets that leave little room for trees. However, the Medina's alleyways and enclosed Riads (affluent mansion houses) offer lovely glimpses of the cities' street greenery that residents use to decorate the outside of their doorways and the Riads internal courtyards. Exploring residential side streets and staying in a Riad will show this.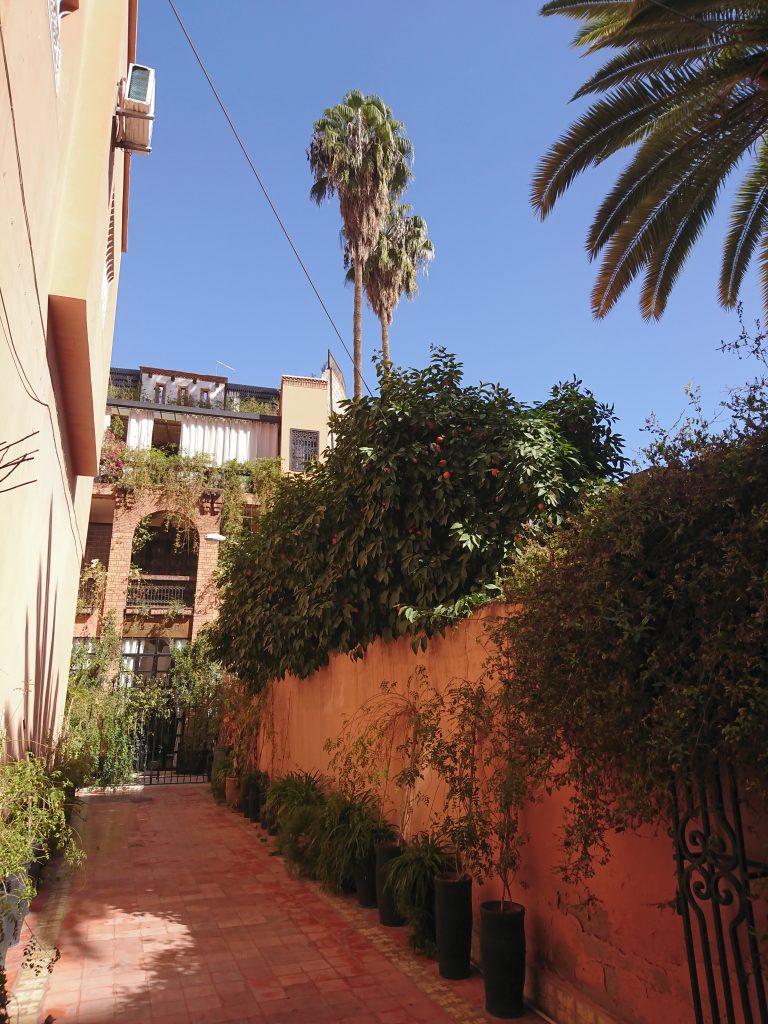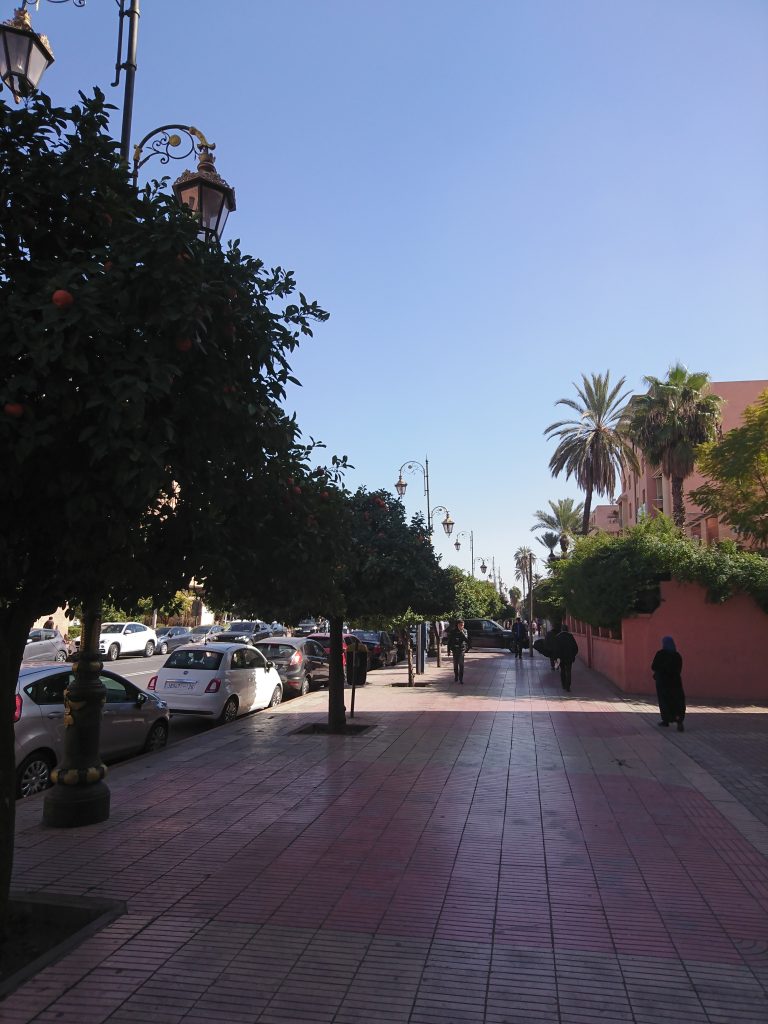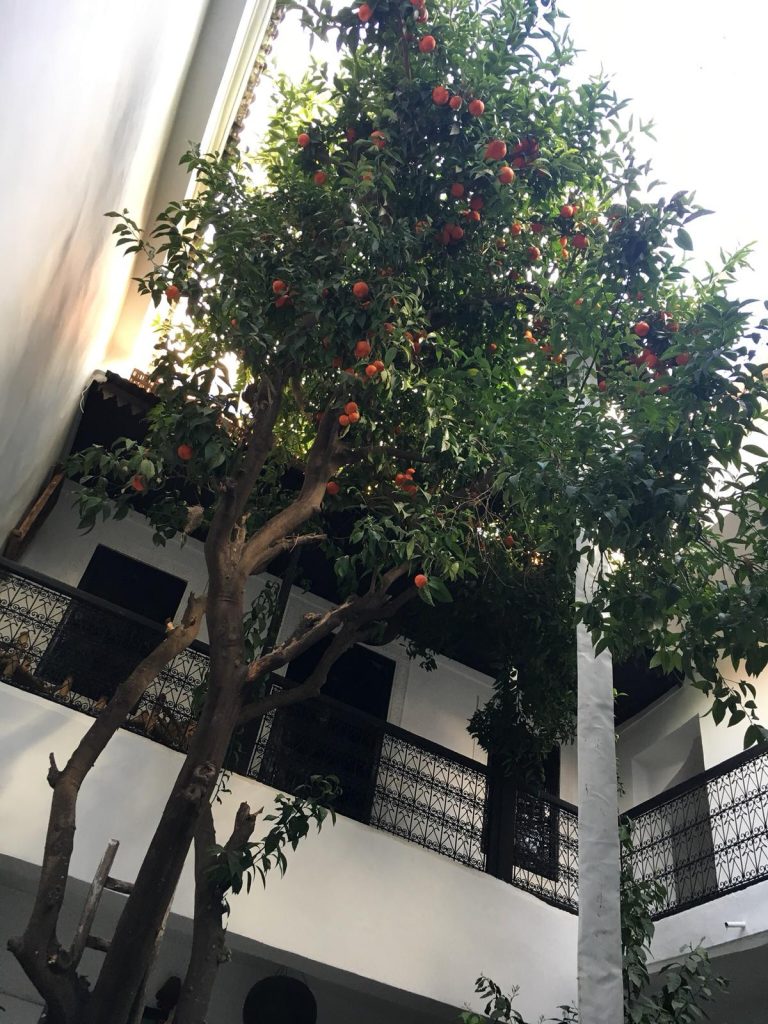 The Ville Nouvelle (New Town) offers more tree lined boulevards where you'll find a wide range of street trees, often full of citrus or olive fruits.
The Best Marrakesh Gardens
(Open to the public)

The majority of the cities greenery is to be found in its numerous gardens that take advantage of the climate and contain a wide variety of trees and plants. Some gardens and parks are free to roam through and others have an entry fee. The gardens I enjoyed the most are listed below with some of the types of plants you can see there. They are either in the Medina or New Town and all are within walking distance from the centre of Marrakesh.
Location: New Town – 30/40 min walk from Medina
Entry: Ticketed
The love child of Yves Saint Laurent and the gardens' original owner a Moroccan ethno-botanist, who started the gardens' impressive plant collection; is now Marrakesh's top attraction and for good reason – it was my favourite natural site in the city. With a wonderful mixture of elegant garden design and quantity and quality of plant varieties.
The beautiful and tranquil garden that is meticulously maintained is a wonderful mixture of elegant design accompanied by shear variety of plants.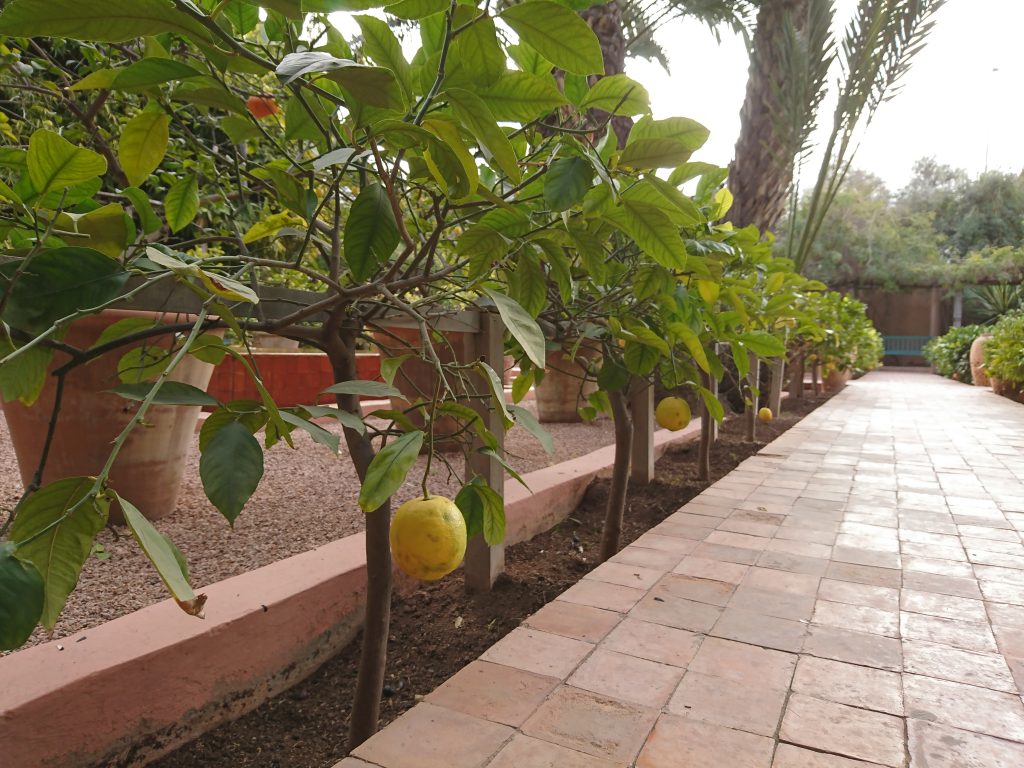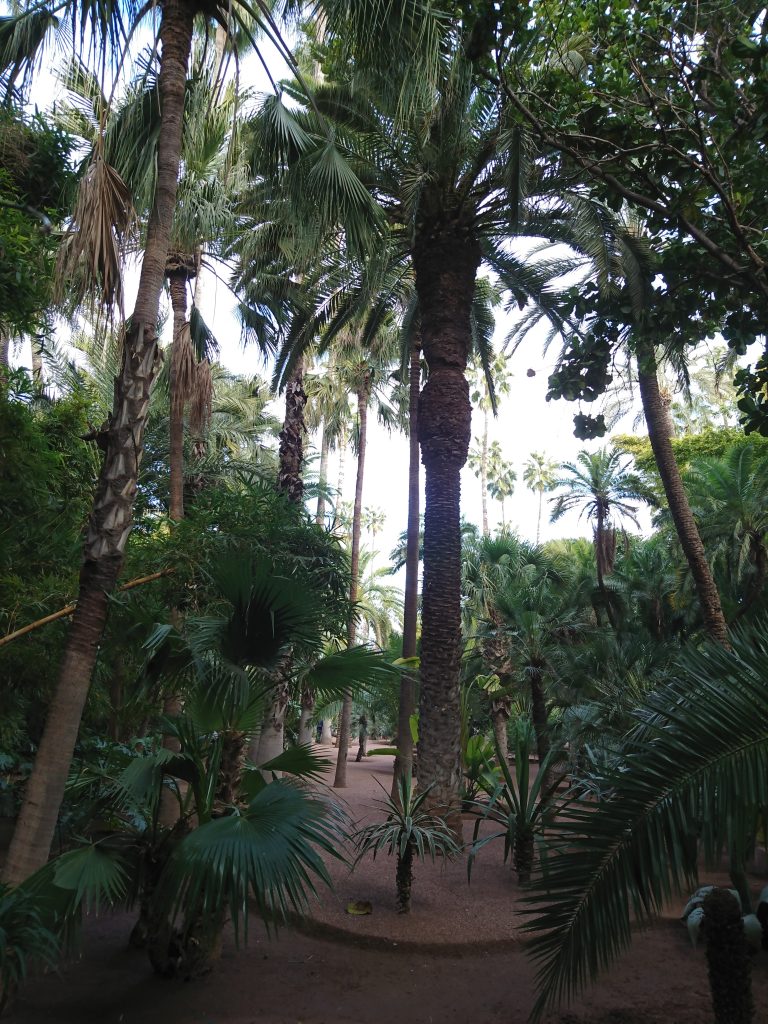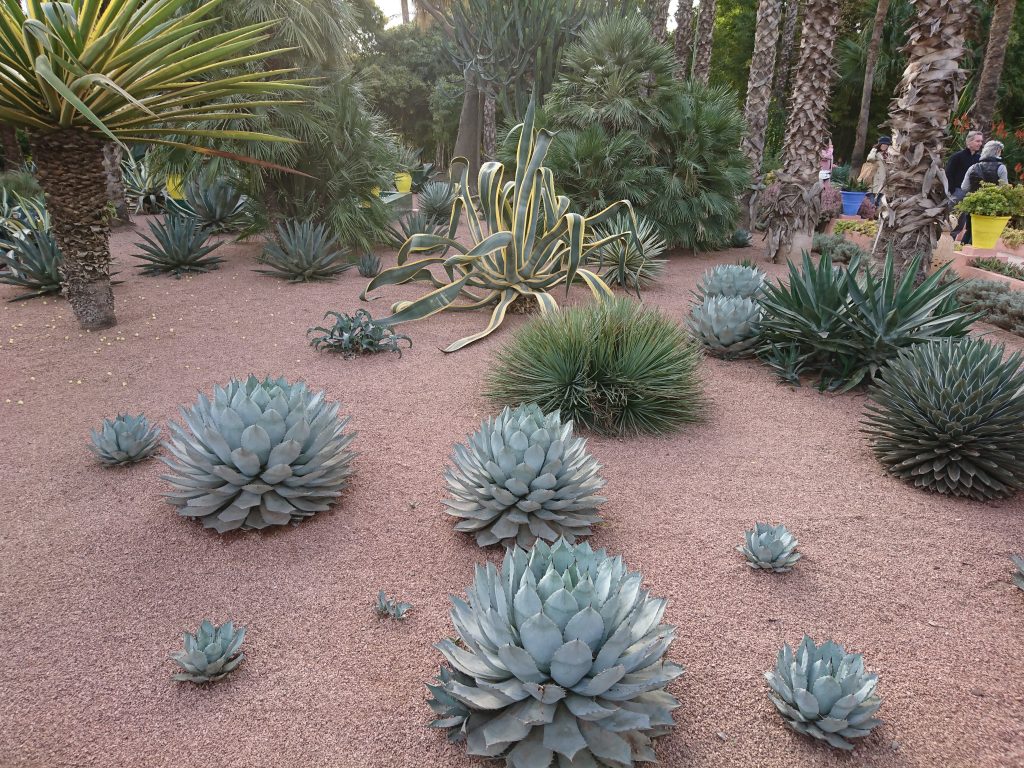 Packed full of an incredible array of plants, there is a big focus on bamboo, palms, cacti and citrus varieties. The garden is split in two with one more focused on bamboo, palms and cactus varieties from across the world; and the slightly smaller house garden with a huge variety of citrus planted in an ornamental fashion also accompanied by palm and cacti plants abound. There is even the odd mango and other tree varieties dotted about.

Location: Medina – 10 min walk north from Jemaa el-fnaa
Entry: Ticketed

This almost 200 year old garden was a secret until it was brought back from disrepair and renovated and opened to the public in 2016. It is calm green oasis in the hectic Medina.
Split into two gardens, the larger garden focuses on indigenous Moroccan plants and is lined with olive trees, citrus trees, rosemary bushes and grasses.
The smaller front garden houses plants from around the world and includes an impressive variety of plants including the unique Pink Floss tree with its distinctive spiky trunk.
The garden also has a very well curated interpretation section with models, descriptions and videos explaining the history and intricate design and of the garden which includes details of its ingenious irrigation system.

Location: Medina/New Town – 10 min walk from Jemaa el-fnaa
Entry: Free

The gardens since the 18th Century under the name of Arsat Moulay Abdeslam, the now renovated Cyber Park, with WiFi and Internet cafe is also home to a beautiful green park on the boundary between the Medina and the new town.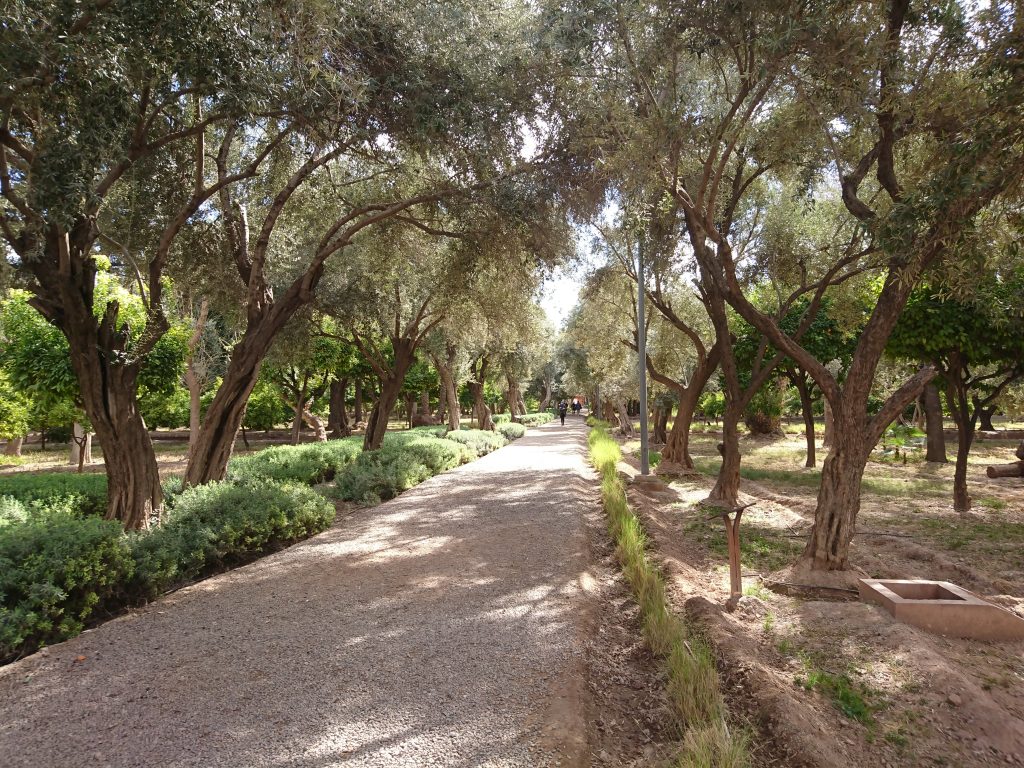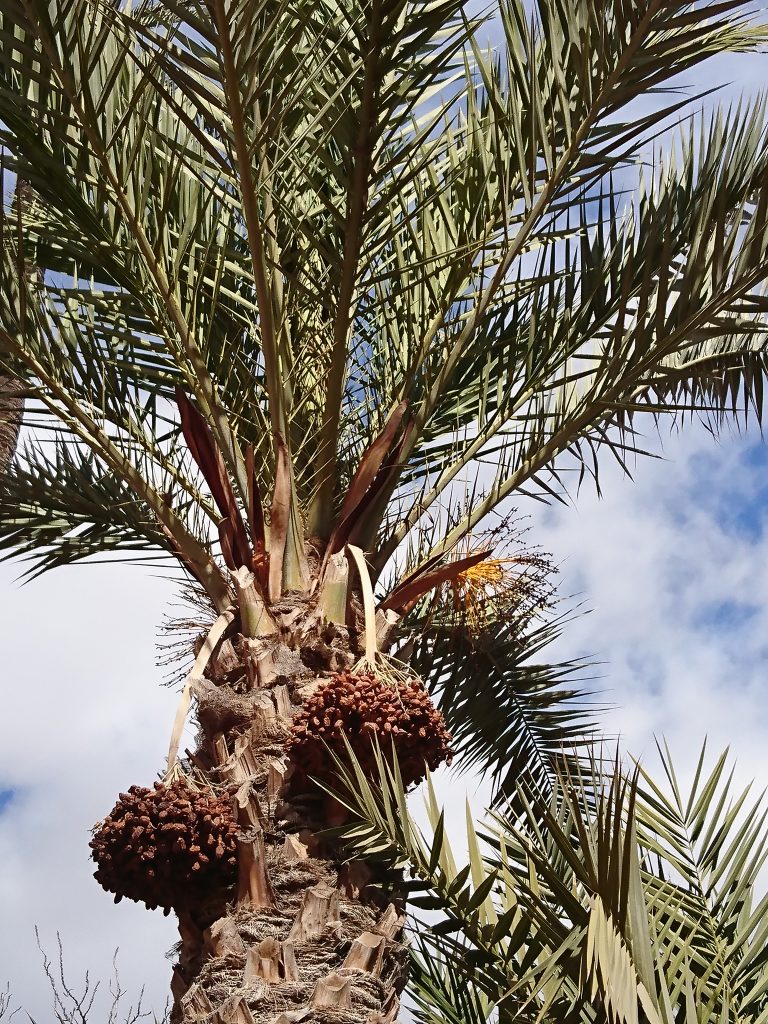 Highlights include lots of French language tree and greenery related interpretation boards, toilets, lots of seating plus large sections of olive groves, palm trees and mature tree species again with name signs.
Location: New Town – 30 / 45 mins walk from Medina
Entry: Free

Found in the heart of the new town, this lovely garden provides an oasis of shade, greenery and calm next to the busy main boulevard.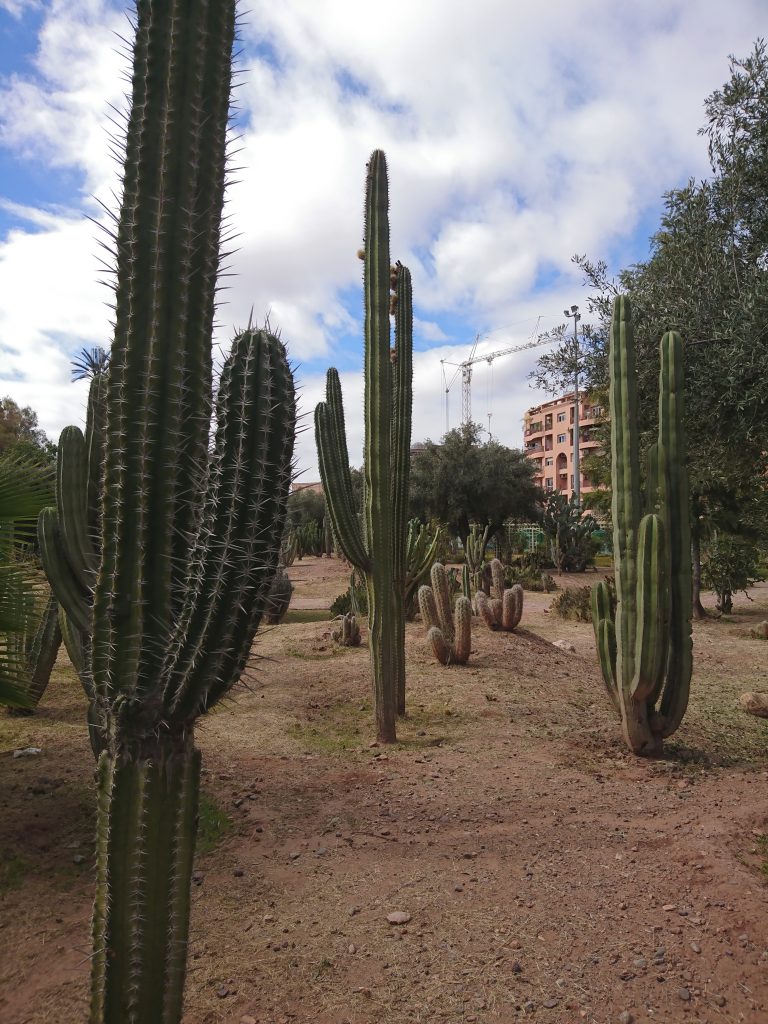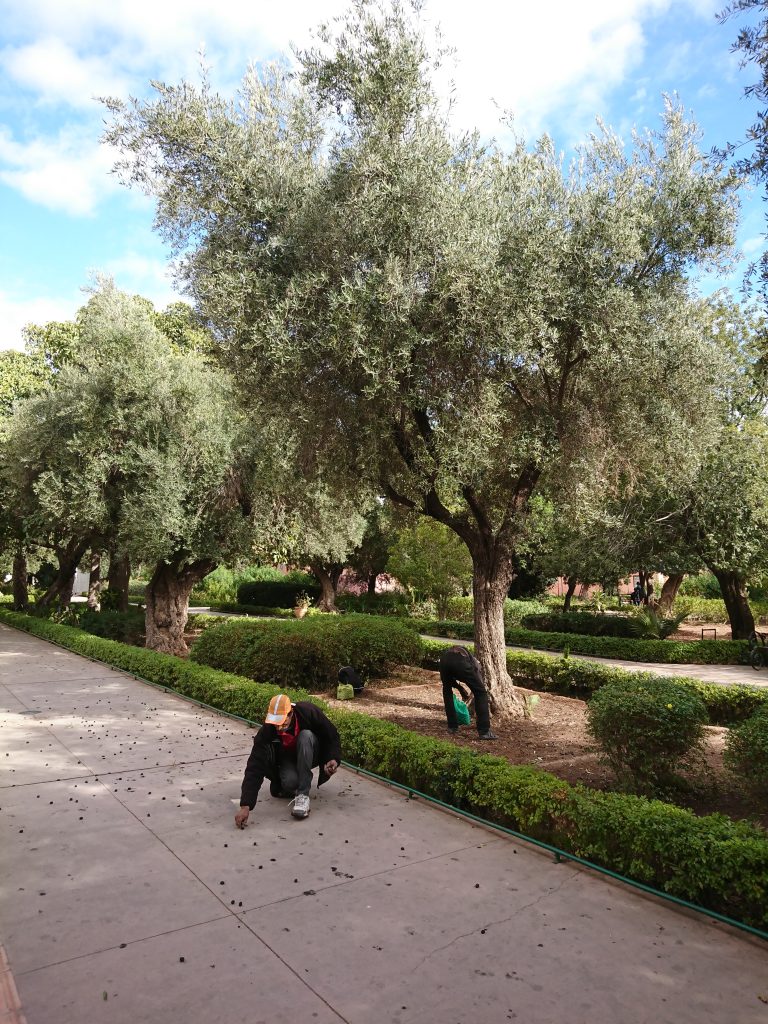 The main attractions include, olive tree lined footways (which we saw being harvested by innovative locals), and the opportunity to walk amongst and enjoy the large cacti close up in the cactus area of the park (unlike at Jardin Marjorelle where you are kept to paths).
Location: Medina – 10 min walk from Jemaa el-fnaa
Entry: Free (if you can get in)
The gardens at Hotel Mamounia are some of the most well kept and stunning in Marrakesh, and this is no surprise as they are attached to one of the top hotels in the city.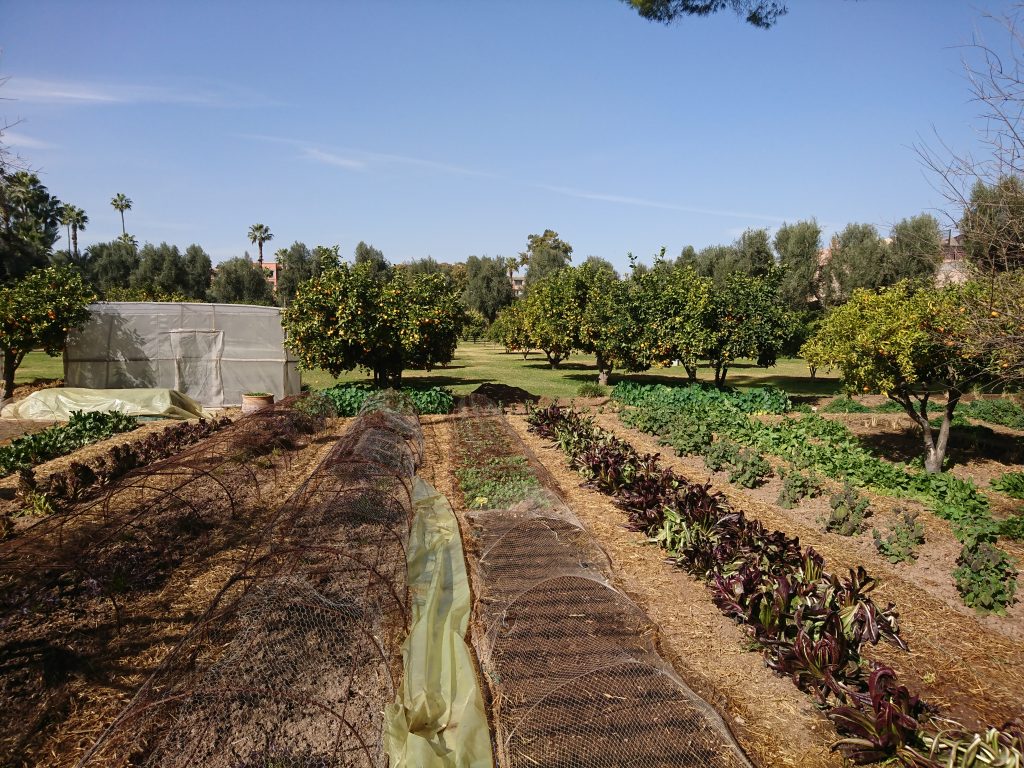 The plant highlights include hundreds of citrus trees that produce a wide variety of fruits that the hotel uses (which we got to sample as staff were harvesting oranges when we visited), between manicured lawns that are separated by olive and palm lined and shaded boulevards that are perfect for strolling along.