The concept and practicalities of shared space can be controversial. As this is the case it is important to showcase both best practice examples of where it has worked and how it can create streets and cities that are people friendly and accessible for all; and highlight some principles that are good to follow to achieve these results.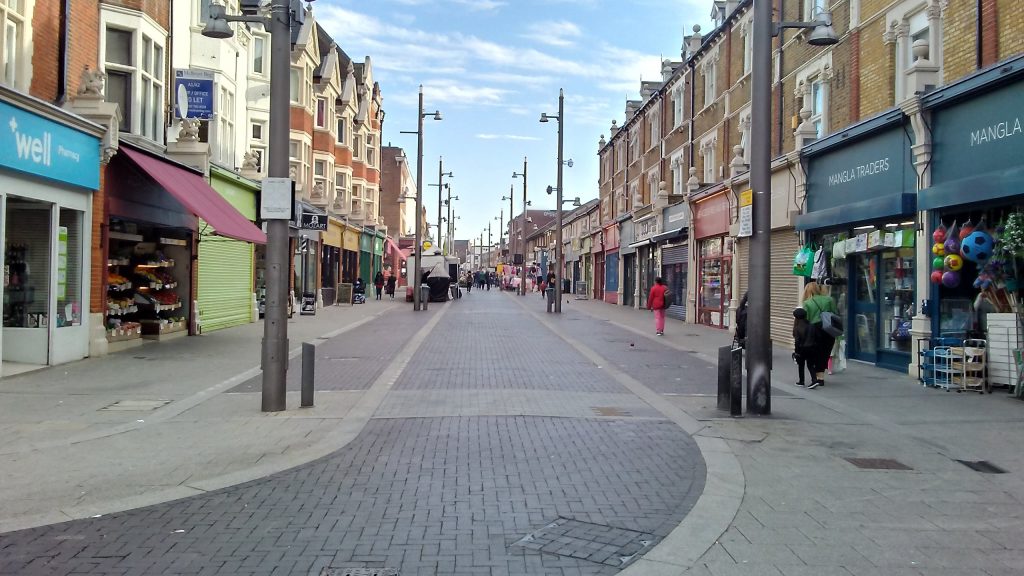 A key issue is that the term shared space is an ambiguously one and not easy to define – what does it actually mean! However, from a people focused street design and place making lens – it can be defined as streets that:
Increase pedestrian priority and permeability of movement across and through streets; and that encourage other road users to yield to pedestrians as the most vulnerable user;
Reduce motor vehicle dominance, by reducing speeds, encouraging less volumes of traffic, replacing parking spaces with people orientated street infrastructure and change the culture and behaviour of road users;
Increase the place and sticking function (people spending more time on a street) by encouraging non mobility related activities such as socialising and playing. Therefore, changing a streets function from solely movement centered to people and place focused. In Pairs, streets that follow such principles are called Meeting Zones!
Key features and elements of schemes that aim for the above include: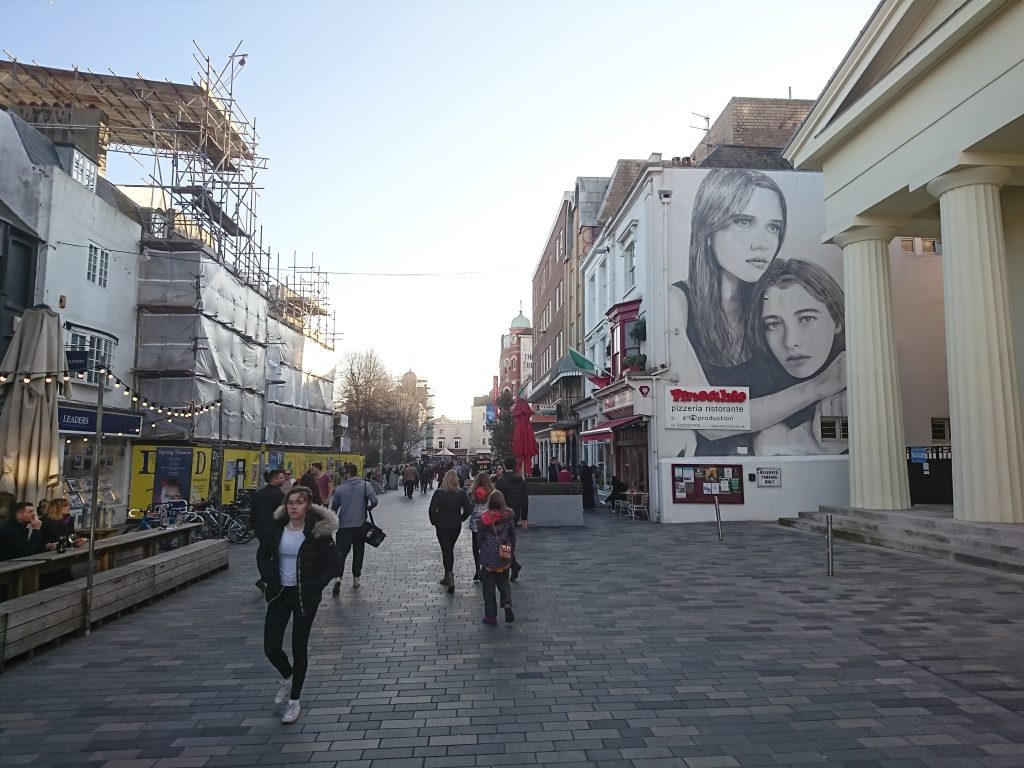 Raising carriageway level to that of footway surfaces and removing the kerb to reduce the division and dominance of the whole street by motor vehicles, and encouraging more ownership of the street by pedestrians;
Re-allocating space from carriageway and parking to footway, by reducing carriage width in exchange for increasing dedicated pedestrian space;
Removing boundary markings between the carriageway and footway, and sometimes road markings to design streets to slow vehicular traffic;
Providing more facilities for people such as seating, greenery and wayfinding, whilst giving greater space and priority to pedestrians.
Installing continuous footway crossings on side roads that provide better for pedestrian desire lines and increase pedestrian priority ahead of vehicles.
Accessibility issues:
In some European Countries, schemes that remove the certainty of dedicated spaces for people and vehicles have fallen fowl to issues around their legibility and accessibility. They can receive negative reviews from accessibility groups, especially regarding partially sighted views, as they are less able to detect where the kerb line is and therefore where it is safe for them to walk, and also when it is safe to cross the street.
This is a vital issue that policy and practice must address to ensure that people focused street design remains inclusive, with accessibility for all people and members of society at its core. Therefore, ensuring that people focused street design does not fall behind or remain in the motor vehicle dominated realm; but shows that the way we design streets and cities can be both forward thinking and put people first but also be accessible and legible for all.
Solutions and learnings:
Ensure streets are accessible for all: All schemes should provide clear, consistent and legible blister paving or suitable tactile markings that indicate the division between areas that are solely for pedestrians and those that aren't. An essential element of the planning and designing process is to conduct Accessibility Audits

Frodsham Street, Chester underwent a transformation to shared space in 2018 into a people focused high street: with level surfacing, reduced speed limits to 12mph, one way traffic; and crucially with tactile paving giving accessible consistency throughout the scheme, which lead to it being voted the most accessible street by accessibility groups in Chester.
Use contrasts on the street effectively: it is important that contrasting is strongly legible to ensure that all users can read and understand the street environment. This can include coloured contrast surfacing when transitioning between pedestrian only areas and shared use.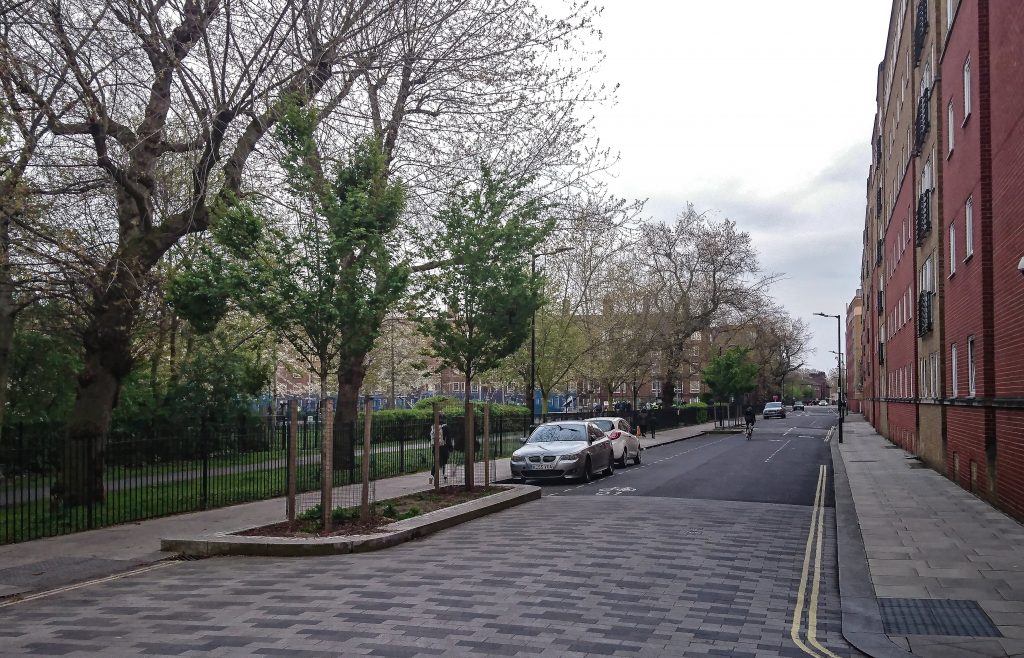 Clear and wide footways are essential: the hallmarks of accessible and people friendly streets include reducing street clutter so that footways are obstruction free and suitably wide for pedestrian flows. A minimum of 2.5 meters width of clear and effective footway that is solely for pedestrians should always be maintained.

Edinburgh, UK successfully banned A boards to ensure all footways were clutter free and accessible.
Provide infrastructure for people: integrating furniture into the street that people can use will redefine the street; such as installing seating, greenery and other features that improve aesthetics and provide function for people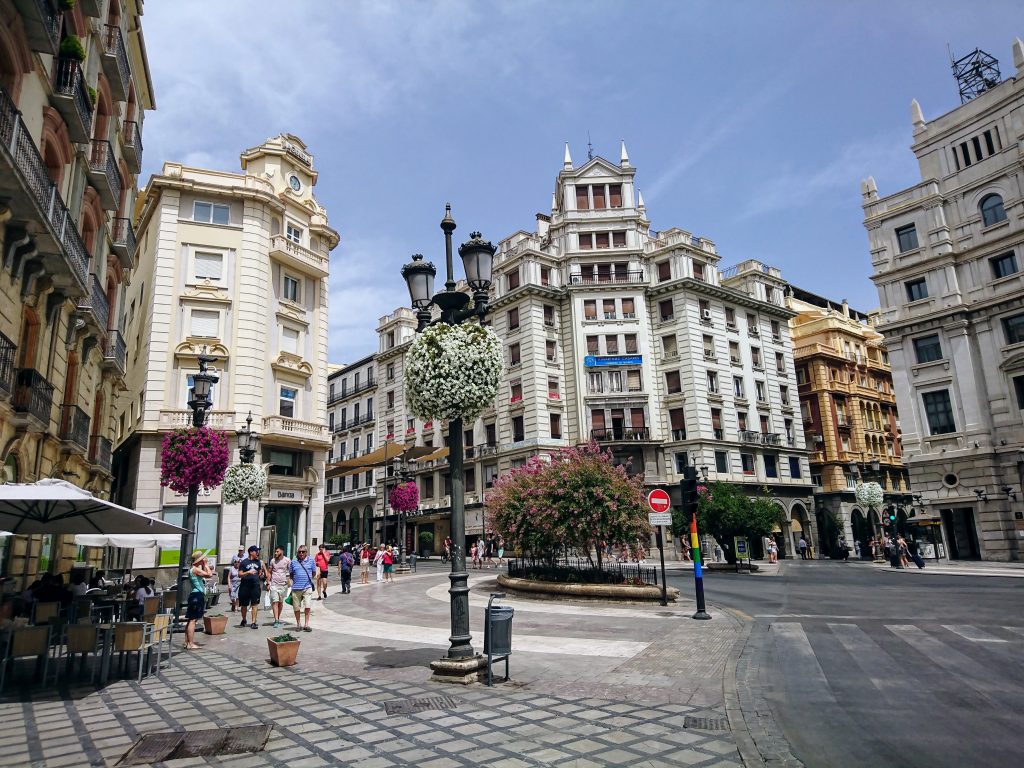 Use street furniture to slow speeds: seating, planters and other features can be used to break up open shared use streets. This can help to slow movements of bicycles and vehicles and also encourage more pedestrians and people to stick to the street, which in turn will reduce movement speeds. In addition, features that flow from the footway into the shared space, such as seating and greenery, sends a signal to all users that this is a space of people and place and not just a road.

Use planters and trees as speed deterrents and demarcation of space – either along street links or as gateway entry features to areas.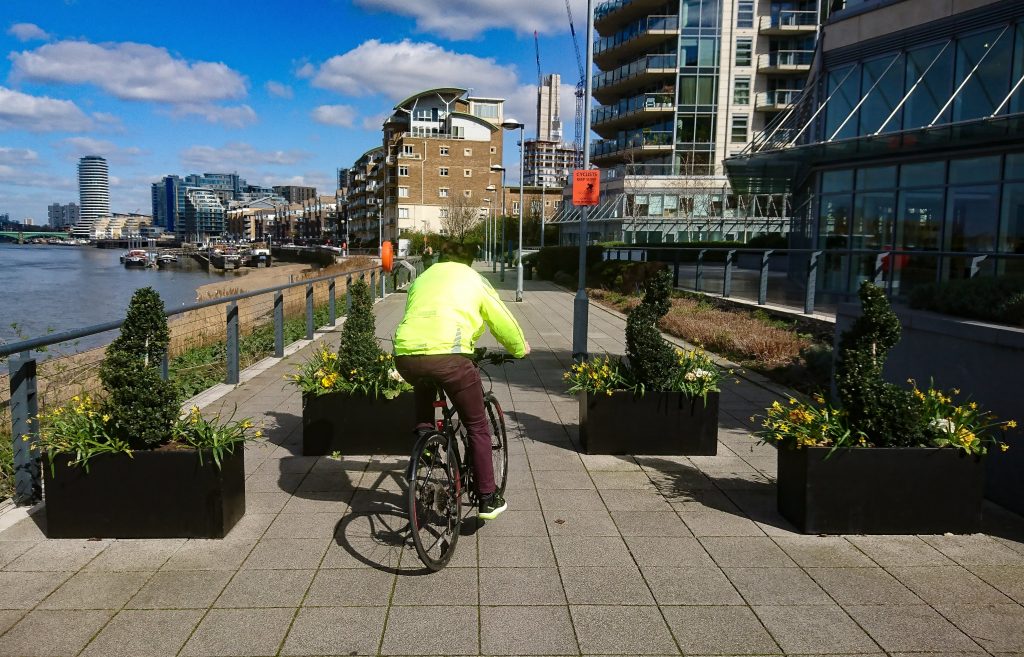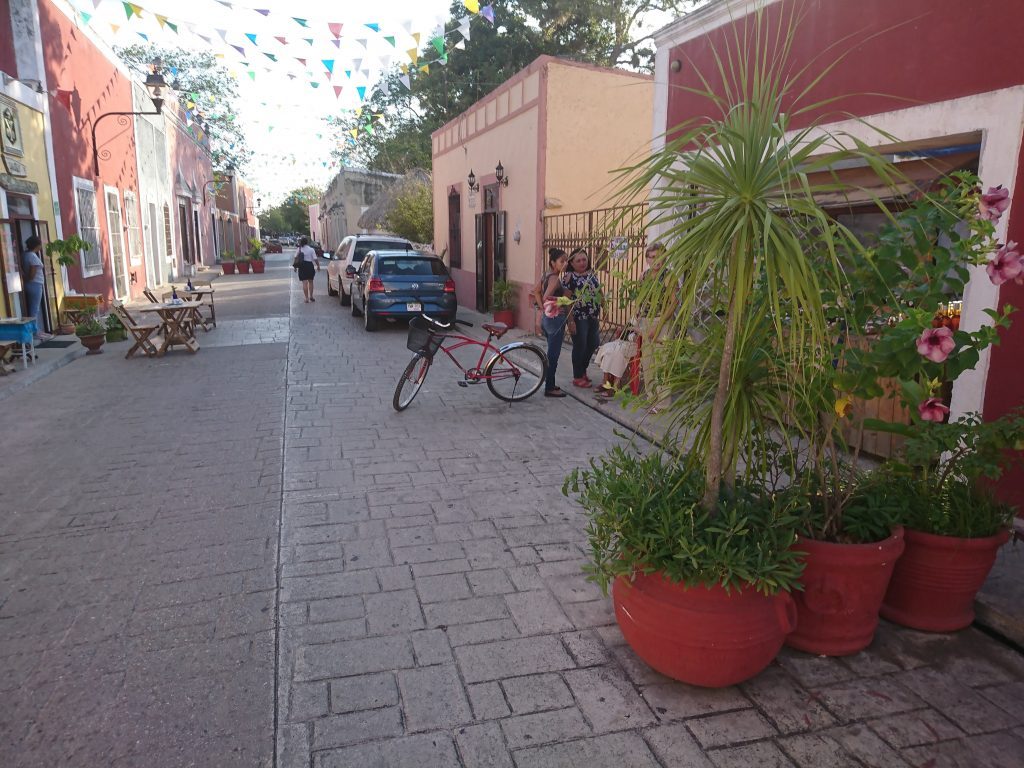 Designing speed with people in mind: restrict speed limits on schemes to walking speed or as low as you can. This will encourage more ownership of the street by people as they feel safer. It is also essential that effective and appropriate signage and enforcement is used to enforce speed limits.
Continuous footway crossings on side roads: test continuous crossings on side roads that are one ended, not through roads and initially on roads that have low vehicles speeds and flows. Test using tactile paving to demarcate the boundary between the footway and continuous pedestrian crossing to ensure readability for all users.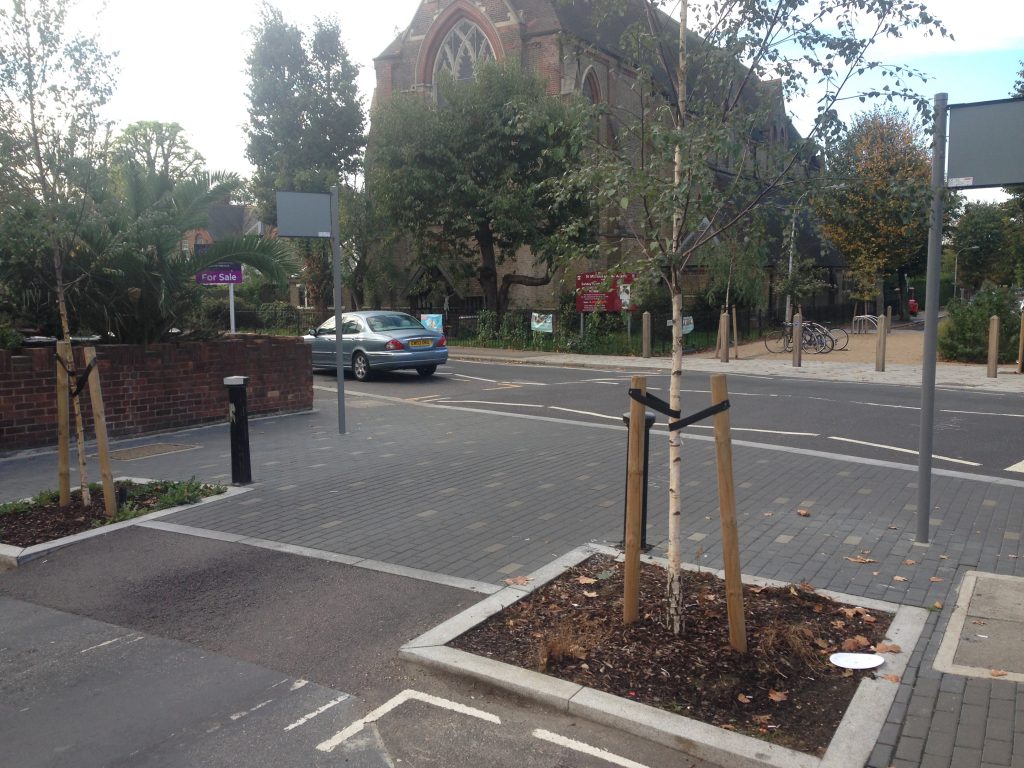 Published June 2019